I have been unwell off late, but when I looked out to a bright and sunny sky this morning, the phone started ringing, it was Colmans and Del off the fly forums, they were on the other end waiting at the Fishermans car park. I couldn't resist making a mad dash across Derbyshire to meet them both, no matter how crappy I felt. I arrived to find 2 kind gentlemen waiting to move upstream with me into Bakewell. We took time for a few casts along the way, and although nothing was happening, we remained optomistic, especially as the afternoons have been producing well lately. We arrived in Scots Garden and fished our way back into Bakewell, but not before me and Del had a luvvly cuppa from his kellykettle, while both watching Johhny catch the first of the day.
I must say the walk through Bakewell was an experience on its own, I suspect Johnny and Del were used to the crowds, but I felt like we'd been invited to a fancy dress party - that had been cancelled and nobody told us. There are miles of banks that do provide peace and quiet, so don't misunderstand me, infact I'd recommend you don't miss the stroll through Bakewell town as its a lovely place to visit, even without a rod in your hand.
We all fished different types of nymphs, and true to expectations we started to catch fish mid afternoon. The first few were Rainbows, but knowing these rainbows were breeding here I was keen to have quick ganders. These rainbows were nothing short of spectacular in both appearance and size, I've known about these for a few years but never felt the need to chase them, however I must admit, I was simply amazed that these big beauties were swimming wild in Derbyshire. I'm afraid no pictures were taken as they are out of season and never left the water, but one Johnny hooked was around the 5lb mark and stunning. We all started to find a few grayling as the afternoon went on, below is my best of the day, caught with my very own Mr Incredible.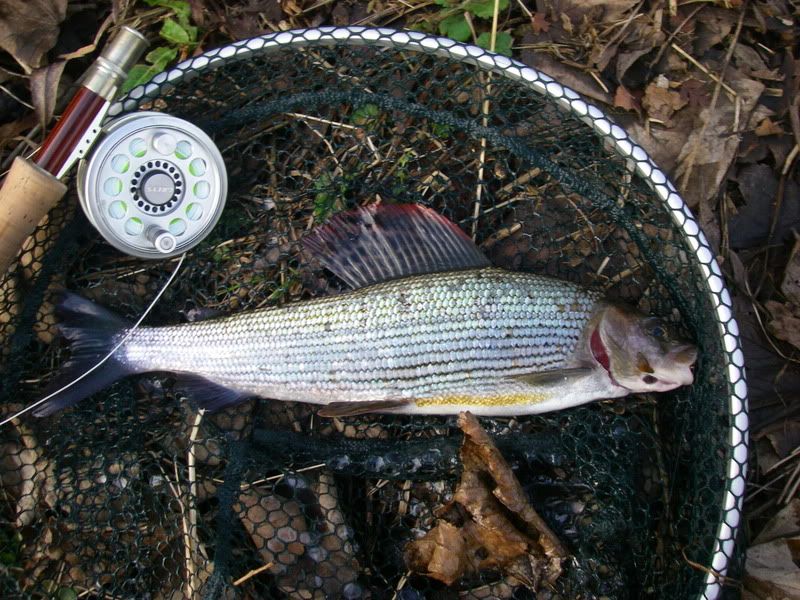 Considering how I felt this morning, walking in the fresh air seemed to aid my recovery no end, or perhaps it was a case of being too busy fishing to be ill. I wouldn't say the fishing was on fire today, but I experienced enough of this unique little river to know its a little bit special, and I will be wondering along its banks again before too long, in fact I can't wait.